http://www.f2galeria.com/exposicion-online/jardines-y-mascotas/
Public commision for Södertälje Hospital 2020
 
TOATREE (To a Tree), comisariada por / curated by Francisco Ramallo, Galerie F2, Madrid
Saturday, 25/May/2019
Friday, 19/July/2019
Cologne Art Fair, Gallery Forsblom, Cologne, Germany, april 2019
Japanstiftelsens Stipendie för studier av Japanskt Samhällsliv 2019
http://lokogallery.com/en/hansandersson/

https://www.svd.se/verk-av-gammalt-skrap-sa-vackra-att-de-tar-andan-ur-en
http://konsten.net/hans-andersson-pa-konstakademien/
Upcoming solo exhibition at Konstakademien/ Royal art academy Stockholm, 24/9/18- 13/01/19
Collab exhibition with artist Linnea Sjöberg at Fullersta Gård opening in May 2019
Upcoming solo exhibition at Loko Gallery; Tokyo, in march 2019, http://lokogallery.com/
Review from Omkonst on soloexhibition at Gallery Forsblom
http://www.omkonst.com/18-varelas-andersson-lindstrom.shtml
Om Jannis Varelas står för det utåtagerande provokativa så beskriver Hans Andersson snarast det motsatta. Här är det den poetiska lågmäldheten inom strikt givna ramar som gäller. Kopplingen till Kurt Schwitters dadaistiska collageteknik är så uppenbar att man närmast kan bortse från den. Nästan hundra år efter Schwitters plockar Hans Andersson upp en konstnärlig teknik som aldrig riktigt uttömdes, aldrig avslutades eller blev passé. Lika stark är fortfarande dess potential, lika överraskande dess produkt. Men det krävs en lyhörd utövare, en formberusad hantverkare, för att förmå balansera det flyktigt slumpmässiga mot det bildspråkligt sammansatta. En sådan är uppenbarligen Hans Andersson.
I de små färgfacetterade collagen, likväl som i de flera meter höga och gråskimrande, är det snarare en pointililstisk målare än en dadaistisk collagemästare vi ser frukten av. Så fritt förhöll sig sällan Schwitters. Där fanns oftast en tidstypisk dominans av bruntoner, vilka i Hans Anderssons fall ofta byts mot välvalda färgackord med spektralklingande kolorit. Kanske är det därför Anderssons bilder ser så uppdaterat samtida ut, trots deras traderade kopplingar bakåt till nittonhundratalets förmodligen mest omstörtande konstriktning till form och uppsåt: dadaismen.
Upcoming solo exhibition at Konstakademien/ Royal art academy Stockholm, 24/9/18- 13/01/19
Upcoming solo exhibition at Forsblom Gallery, Stockholm  23.3.–22.4.2018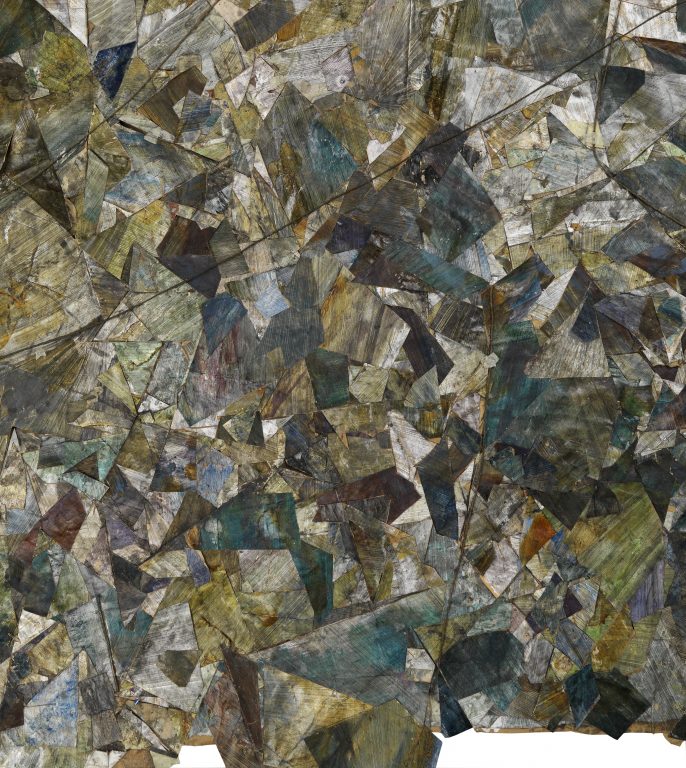 Reciever of Konstakademiens exhibition grant, with upcoming solo exhibition and catalogue in Konstakademien, Fredsgatan; Stockholm, in 2019
New work part of the Fenberger House Collection and participation of upcoming exhibition Cosmic Consious Museum. https://www.fenbergerhouse.com/
AIT ARTIST TALK #72
"History flows from all the presents- Artist Talk by Hans Andersson from Sweden"
Date: Tuesday, November 14, 2017
Time: 19:00-21:00 (18:30 Door open)
Venue: Daikanyama AIT Room
*All admissions with 1 drink / Booking required / Summarized Japanese translation available
AIT is pleased to host the artist talk by our current artist in residence from Sweden, Hans Andersson, with the support of Iaspis.
What if a work of art could induce in the viewer a certain calming state of mind?
This kind of question was predominant when art was made in the service of higher consciousness. We see it repeated in the religious art of all cultures, and yet it is a question that is somewhat difficult to confront since the dawning of modernism.
Hans Andersson creates dense and richly time-layered drawings, collages and objects which perhaps hold some sense of this 'timeless' quality of great religious art. Drawing on numerous experiences and sources, including early electro-acoustic music, Indian Tantric art, architecture and altered states of consciousness, Andersson's art asks us to surrender and give ourselves over to the complex but eternally intruiging intersecting of matter and time.
Andersson will bring examples of his art work to help expound his talk, and Roger McDonald from AIT will join him later in conversation, and provide some basic consecutive translation.
We hope that you can join us.
[OUTLINE]
Date: Tuesday, November 14, 2017
Time: 19:00-21:00 (18:30 Door open)
Venue: Daikanyama AIT Room
Capacity: 20
Admission: JPY1000 (JPY800 for Students and AIT Base Members / Free for AIT House and Support Members)
*All admissions with 1 drink / Booking required / Summarized Japanese translation available
[Reservation]
Please send an email with its subject line as "AIT ARTIST TALK #72" at otoiawase@a-i-t.net, including your name, contact phone number and the category of your admission. (Please input @ in normal-width)
[Artist Profile]
Hans Andersson (b.1979 in Kalmar, lives and works in Stockholm)
Hans Andersson works with abstract images and sculptural objects from found materials. His work is a continuous questioning of the materials, their heritage and their internal and external qualities and tension. His process is intuitive and nonlinear. The philosopher Simone Weil states that a subject acts through its non-actions. The subject acts, but it is no longer the will that is the foundation for its actions, it is, on the contrary, a sort of obedience. Art, and philosophy as a concept, should according to Weil be received in awaiting and treated with contemplation. Hans Andersson spend a great deal of time with his work. The procedure is both gentle and spontaneous
Upcoming solo exhibition at Galleri Forsblom; Stockholm, march 2018,     http://www.galerieforsblom.com/
Artwork for Essä; new Swedish literature magazine; to be published during the fall 2017. https://www.tidskriftenessa.se/
Recidency at A.I.T Tokyo sept- dec 2017
Reciever of Esther Lindahls travel grant 2017
Public artwork at Kalmar länssjukhus installed June 2017
Vestfossen Kunstlaboratorium, Noco collection exhibition. 6 maj – 6 of sept 2017
Note in Cahiers Simone Weil by Christine Zyka
Work currently on display in the American embassy, Stockholm